Let's talk about data, baby!  Riddle me this: In a world of metrics, where we can measure the number of air particles per square unit of air, have you ever been curious if we can measure how horny you really are? Can orgasm control be optimized through the study of a submissive's responses? What the odds of feeling horny on a Tuesday versus a Saturday are? Have no fear; the Quantified Sub is here! You are welcome on this scientific journey of discovery. 
This blog post was collaboratively written by myself, Mistress Blunt, and Submissive G, affectionately referred to as Subject 1. Below details the specifics of Submissive G's orgasm control instructions to give you a better idea of our methodology should you desire to play along. This bespoke research protocol was developed by Mistress Blunt to gain a better understanding of Submissive G's masturbatory habits and the impact of orgasm control, orgasm denial, and edging on their little, horny brain. The protocol and findings of this orgasm control research project is outlined below.
MB: You are to play (3) times a week for (60) mins and edge as many times as you can. Track the data.
Submissive G: Yes, Mistress Blunt. (Whines inside and repeats in head a million times: "As many times as you can, as many times as you can, as…")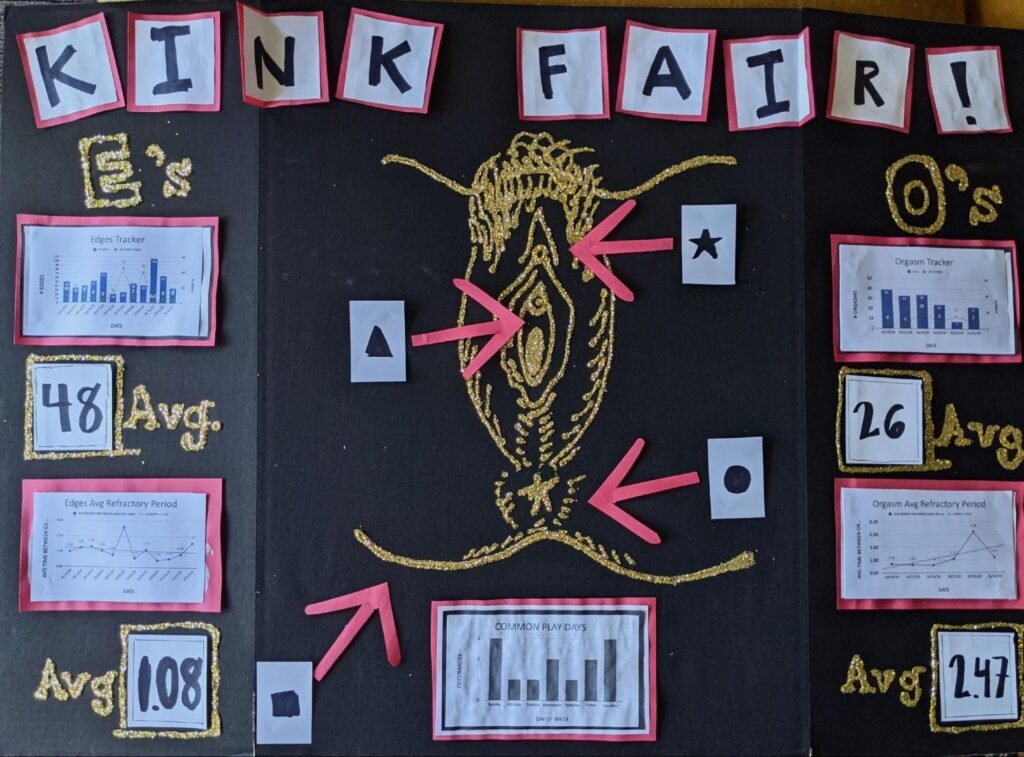 SCIENTIFIC METHOD
HYPOTHESIS: If given the chance, I can be a good girl.
MATERIALS: Maude vibrator, glass 4" g-spot toy, itsy bitsy teeny-weeny black silicone butt plug-kinie, and cunt.
EXPERIMENT & DATA: See APPENDIX A for visualizations.
| | |
| --- | --- |
| INDEPENDENT VARIABLE | Mistress Blunt & Submissive G |
| DEPENDENT VARIABLE | Mistress Blunt's orgasm control command |
REFRACTORY FORMULA
RF=(60-x)/y
x = time until 1st edge/orgasm
y = total # of edges/orgasms
ORGASM CONTROL AND EDGING ANALYSIS
Let's talk about quantitative findings!
Edging: Given 12 data collection days, we have concluded that on average for one (60) minute play session, I can perform at an average of 48 edges. After the first edge (warm-up), I can edge every 1.08m or ~65s.
Orgasming: Given 6 data collection days, we have concluded that on average for one (60) minute play session, I can perform at an average of 26 orgasms. After the first orgasm (warm-up), I am able to orgasm every 2.47m or ~148s.
Looking at the data, we can see that it is more difficult to orgasm continuously than edge continuously over a (60) minute time period. Concluding that, Submissive G (aka Submissive Me), needs a larger refractory period for orgasming than for edging.
Let's talk about qualitative findings!
Topic: Orgasm control and power exchange. I certify that the following statements are of my own volition and I do not speak for the coalition of submissives who love to have their orgasms controlled.
Orgasm control is such a raw layer of power that when I give it up, I unleash more of my own power. It's everlasting, the dance of submissive power that oozes out and craves to be taken. It feels like bliss and agony fucking to produce the magic that one feels when you lose the control and ability to give yourself the grand finale or make your body relive it over again… and again… and again.
I've learned so much about my desires, namely that giving them up to someone is an act of surrendering where I can receive so much in return. I can name that I love total power exchange and I am lucky to know that.
CONCLUSION
If given the chance, I will be a good girl.
There you have it, folks!
The question is: Did this Kinky Science Fair experiment leave you satisfied or aching for more!? How much can you really squirt and how far does it go? Which makes you cum harder: watching edging porn or forced orgasm porn? Mommy or bondage scenes?
You too can be a quantified sub. Here in the land of, "Holy shit. I didn't realize my body could do that.", we invite you to share what marvelous creatures we all are across the spectrum! The only thing holding you back is yourself, or your dominant…
Special shout out to my sponsor, Mistress Blunt. You the bomb, Mistress Blunt!
For more information on "Research Methods 101: How do I begin quantifying a sub? A How To Guide", please subscribe to Mistress Blunt's OnlyFans or AVN Stars, and private message her saying, "QUANTIFY ME, MOMMY".
APPENDIX A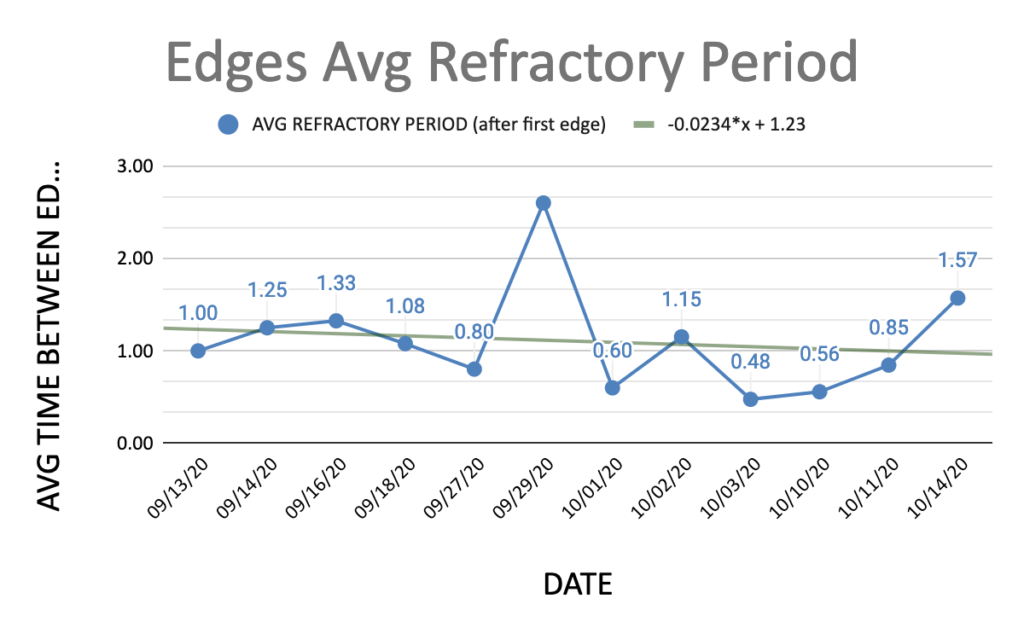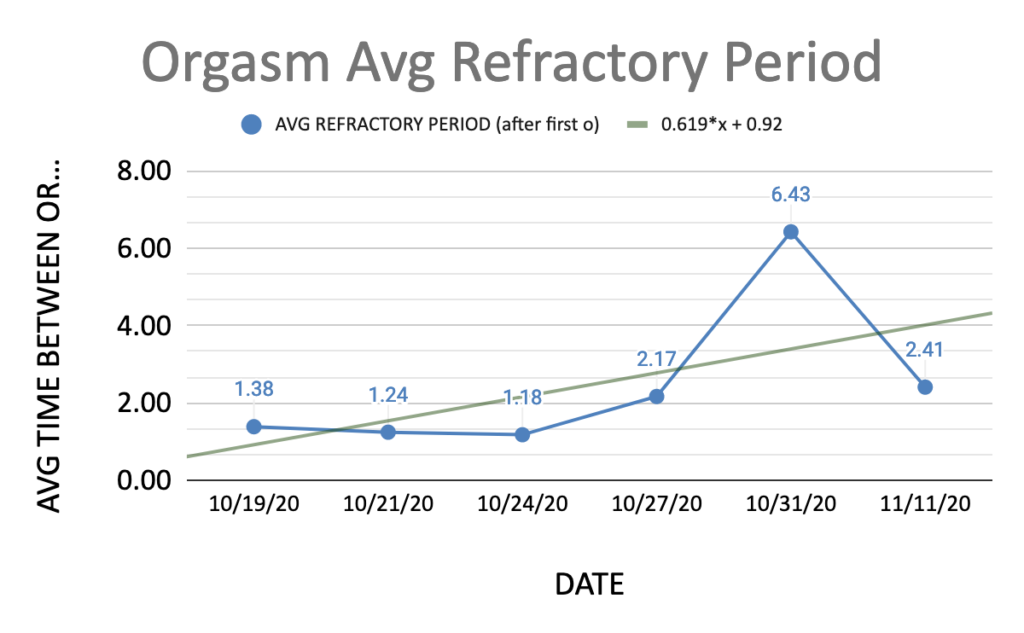 Now it's your turn, dear reader! Is there something about yourself or your partner that you've been dying to learn more about? Data collection and analysis is not only a great way to conduct empirical research, but it is a great task to keep a submissive focused and busy.
Mistress Blunt invites you to explore a research question that interests you and present your findings to her on OnlyFans or AVN Stars. There will be winners, there will be losers, but most importantly… there will be data.