He jolted awake to the hiss of equalizing air pressure, as the pod entombing him unsealed itself. With his first conscious thought, he grasped desperately at the wisps of an intense dream that rapidly receded back into the depths of his subconscious. With the luxury of time, he might have savored the psychic aftertaste of darkly intense pleasure from a realm of inhuman majesty and terrible beauty. While in transit, he had never been allowed to remember the visions themselves.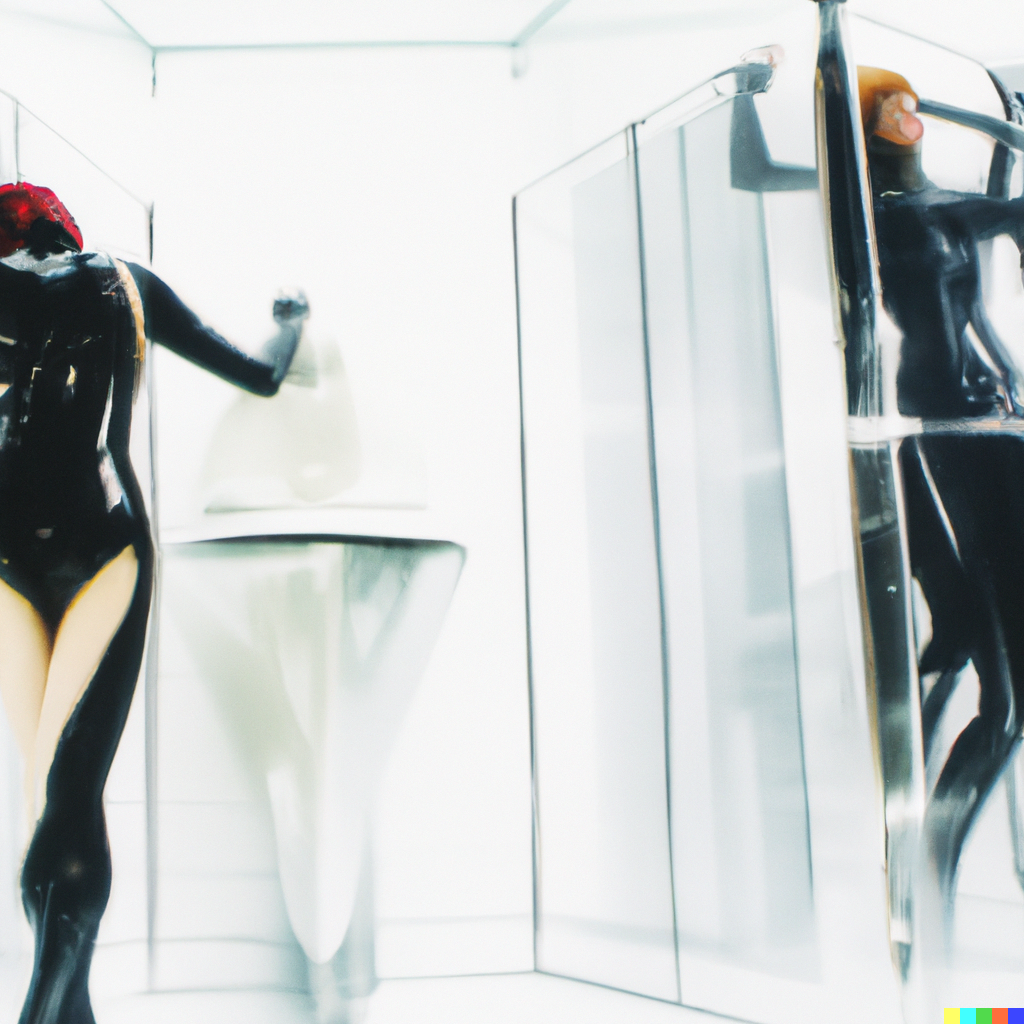 The lid of his box cracked further open, and a seam of light pierced his little sanctuary, prison, and shipping container. He squeezed tight his feeble eyes and tried to roll away from the sensory onslaught, only to find himself completely immobilized. Still immobilized. He began to remember. He settled into the now familiar sensation of rubber hugging every inch of his body. Two sheets of the smooth, implacable material imprisoned him completely, his limbs splayed to the corners of the box. Only his head and his sex were exposed, emerging from the gleaming gold collar and cock ring that were somehow molded flush to his body, serving as gaskets for the vacuum seal that held him.
Still trying to hide from the intruding light, he remembered every other time he had awoken in this box, still sealed in darkness, to an electrical shock from one or both of those gold shackles that controlled him throughout his journey. As though in response to this memory, an almost gentle zap flared out from the collar around his neck. The pain was relatively mild but more than enough to remind him of the price of disobeying any instruction he received. He stopped trying to turn away. He straightened his head and forced himself to crack open his eyes. At the same time, knowing what was being done to him, he felt his cock begin to grow hard, only to strain helplessly against the metal cage and urethral plug that imprisoned it.
When his eyes adjusted, the first thing he saw was her standing over him, a vision of seductive beauty clad in a red silk dress, the only color in a shadowy chamber of indeterminate size. He might have fancied her for an angel, with the twilight glow from the glass behind her framing you like a halo, each strand of her hair a wisp of dream curling into space. His breathing began to quicken. He forgot entirely the lessons he had learned in the box and began to struggle for air through the mask that still covered his nose and mouth. She leaned down over him with a beatific smile, reaching toward his face. The pendant around her neck swung lower, catching his eyes. He stared into the black stone dangling from the golden chain, and for a moment thought he could see the twinkle of stars inside, a swirl of galaxies.
"Welcome home," she murmured, gently tracing a fingertip along the mask's release mechanism. "This is where you belong." Tears welled up in his eyes, even as he forced himself to regulate his breath. Only then did she remove the mask, still trailing the breathing and feeding tubes that had connected him to the pod's systems, revealing the gag still strapped into his mouth hole. "So much machinery," she mused, now running her finger along the thick gold of his collar, so close to where the metal met his skin, "just to keep you in good condition. You should be thanking me."
He tried. He wanted to say, "Thank you, Mommy," but his lips and tongue were still wrapped around the long, phallic probe gagging him, the other half of the mechanism that governed his access to air, food, and speech. He grunted helplessly instead.
She stood back up, towering above him as the red silk swirled around her legs. "From now on, you'll only need what I say you need." Even as she turned away from him, two more figures came into view, one on either side of the box. They were covered head to toe in what looked like black latex. With gags buckled around their mouths and blindfolds wrapped around their heads, he could not see a single inch of skin, not even their eyes. He had no way of knowing they were even human, although their shape, their curves, could have been lifted straight from his fantasies. They were beautiful.
His cock tried again to stiffen in its metal prison, and he squirmed from the growing pressure from the plug penetrating him. The pair of maybe humans moved unerringly to disconnect the bulk of the apparatus surrounding him: the machinery and pumps and reservoirs of nutrients and oxygen and waste. They moved almost like machines themselves. With effortless strength, they lifted the black metal tubing that framed him, along with the rubber that cocooned him, tilting him up and away from the remainder of the pod. Soon, he was left suspended in the metal frame like a specimen to be hung on a wall, or a morsel caught in a rubber web, all of his holes plugged. His head had enough freedom of motion to look down and realize that the latex sheet seemed impossibly thin, almost translucent, and tight enough to feel like a second skin. He watched the two drones return to her side. His eyes traced their feminine curves again and he remembered how easily they had maneuvered him. They were the embodiment of perfection.
He watched her approach as they retreated and fell into position behind her. Silent and blind, they sank to their knees as one. In that moment he saw the truth, recognizing them as extensions of her, her will. He trembled with desire. "Do you like what you see, little one? Is this why you are here? Is this what you've always wanted? Life as my thrall, my little drone." Her voice filled him.
He gazed helplessly at her, growing very conscious of his cock straining against the confines of its cage. In a room filled with shadows and muted lights, she gleamed in red silk. The dress and the matching red of her lips were the only color in the room, reflected everywhere, in the metallic gleam of his box and the latex sheen hugging the two drones. Then there was the touch of herr hand again, stroking his face and tracing a line down from his collar to the cock ring. He groaned into his gag as he felt the gentle but firm pull from the metal plug fastened to the tip of the cock cage, penetrating him. She pulled it free slowly, sensuously, and he moaned deliciously. A mixture of backed up cum and precum just oozed out of him into the waiting hand of one drone, now kneeling beneath her. "Couldn't hold your cum, little one? Maybe I should send you back." He grunted desperately, revealing even to himself that he didn't want to escape.
The other drone appeared at his side. It unbuckled the gag and pulled it from his mouth. "Mommy forgives you, sweetie. I know you have no control. Besides, we can just send the cum back instead." The first drone deposited it into his throat and made him swallow. "You should be used to the flavor by now." He flushed, thinking of how much nutrient paste had been pumped into his mouth while in the box. His eyes lingered on the drone that had just fed him his own cum. He started at the blindfold and gag still buckled onto the hood, erasing any features at all from the face beneath. How could it see what it was doing to him? She whispered the answer into his ear. "Just an appendage for Mommy. This can be your reality, too. But once I take you into my world, there is no going back. Tell me, little one, is this what you want?"
His gaze rested on the gleaming gold ring dangling from the middle of the drone's collar. "Yes, Mommy. Please, Mommy. I want whatever Mommy wants. I want to be a hole for Mommy." The words spilled out of him, lubricated by endless hours of devotion, conditioning, and training. "I am yours, Mommy. Everything that I am. I want to be better for Mommy."
His heart pounded as he awaited her judgment. She approached him, smiling. He stared at the contours of the silk clinging to her body, now just inches away. Only in his dreams had he ever been so close to her. He could smell her arousal. His pulse quickened as she drew one hand through the slit of her dress and into her pussy. She showed him the shimmering juices coating two of her fingers. "Mmm, you're making me wet. Would you like a taste?" He just began to nod eagerly when she placed a finger on his lips, then began to smear her wetness all over his mouth. "Do you like how I taste?" He gazed at her, his breath growing deeper. He wanted to say, "yes, Mommy," but nothing came out, not even a stutter. His eyes grew wide as he realized that something was wrong, and her lips broke into a wide grin. "Oh, I've sealed away your ability to speak." His brain had forgotten how to form the words.
"Don't worry sweetie, you don't need to talk, not any more. You understand, don't you?" She caressed his cheek, manipulating his head into a gentle nodding motion. "Your tongue only has one purpose now. Show me why I should let you keep it." With two fingers she penetrated his lips, began to fuck them. He began to suck and lick for all he was worth. One of the drones sank wordlessly down out of his view, but he could hear the sounds of another pair of lips pleasuring her. The other drone approached from the other side and removed the rest of the chastity device. It drew one finger slowly up his rapidly swelling cock. He realized that what covered that teasing finger was not quite latex. It had a warmth and a texture more like oiled skin. He felt the impulse to look, but he found he could not break eye contact with her. When She spoke again, his eyes were drawn to the dancing red of her lips and could not escape.
"I'm glad you like what you see, what you will become. You know, there is another path for our… guests. Another option, for those who do not join our little family. We like to think we show our guests a good time." He felt a kiss at the base of his cock, just above his balls, and then he felt a tongue lick and tease and lick. His sex swelled and engorged, trapped within those not-latex hands. She leaned in closer, even as his breathing grew heavy, heavier than the box would have permitted. "And sometimes we actually let our guests cum…"
Already flush with arousal from his time in transit, he felt himself already rapidly approaching the edge. A well trained little boy, he would have begged for permission to cum, if she had let him. His face became a mask of pleasure, and she laughed before spitting at her prey with practiced ease. The spit landed unerringly on the tip of his cock just before the unseen lips of the drone beneath him spread it up and down his shaft. It was ecstasy unlike any he had ever known, and he knew he should be passing the point of no return.
"But for you… I've sealed away your ability to cum."
He still felt every wave of pleasure cascade out from his sex and shake his entire being. She smiled, seeing first the pleading in his eyes, the utter desperation. The smell of her own arousal suffused the air as he begged with his entire body. He struggled, each hand clenching within its latex prison, unable to move an inch let alone give himself any relief. Somewhere inside his fraying mind he knew that even if he could reach his own cock, it wouldn't work. The pleasure he felt had already swelled past the point of orgasm and still kept building and building.
She held his head between both hands, drawing him into his Mommy's embrace. She whispered into his ear, "Your orgasm means nothing to me, so I've removed it from you. You will never cum again. And I'm glad you want to join my little family, but make no mistake, your last actual choice was climbing into that box. Nothing you've thought or said since then matters. There is no safe word. Your consent means nothing now." He looked into her eyes again and saw at last the inhuman irises, like whirling galaxies, spinning around the black holes that were her pupils. His mortal mind began to panic as it struggled to understand how far out of his depth he had stepped.
She could have fractured his mind entirely then, shattered it into pieces, but she enjoyed watching them sink into their fate. She licked his face. Gently, she put one finger in the venom pooled on his forehead. "And now I will seal away your ability to think. Your capacity for rational thought." She traced a circle, like a third eye. He didn't understand what was happening to him. He would never really understand anything anymore. "All the shame and anxiety you have learned." She traced the circle again. "Everything but your desires and your need for me." She traced the circle one more time. "But… I will let your mind surface every now and then, I think. Just enough for you to see what it means to be mine. To be just a hole for me, a vessel for my pleasure."
She wiped her venom-covered fingers down his face, closing his eyes. He was less than human then, writhing in mindless pleasure. He was a perfect vessel for her seed. A perfect host for me.
This is part of my BDSM Stories writing contest, contributed by an eager submissive. The illustrations are courtesy of Dalle-2. Want to learn more about how I train my submissives, or perhaps, become one of them? Follow me on my OnlyFans. Don't forget to sign up for my newsletter and for those who feel inspired by the above interview and want to make fantasy a reality, reach out.