*Note from Mistress: One thing that I am proudest of is my ability to cultivate long term D/s relationships with submissives. While one year is just the beginning of what can be explored through a D/s dynamic, it is still a milestone to be celebrated. Over the past year my submissive has earned a collar, grown, explored new things, and expressed hidden desires. He has sacrificed more for my pleasure and proven his devotion daily. Here is a letter he wrote me, in gratitude, celebrating our first year together. Cheers to many more, duckling. Mommy adores you.
Dear Mommy,
It's strange to think I've only been submitting to you for a year. It feels like a lifetime ago that I first reached out to you, desperate to explore a long-neglected side of myself. The only thing I knew for certain was that I couldn't escape my fantasies, mostly of bondage and chastity, but they also didn't seem to fit into real life for me. I'm nor sure exactly what I expected going in, but I knew that you were an expert and that something in your content spoke to me. Right away you helped me articulate some of what I wanted. I sought connection, to someone who wanted my worship. I sought exploration, with someone who could help me navigate first experiences with kink. I sought mentorship, under someone who could teach me how to integrate kink into my life and my relationships. In hindsight, it was asking a lot, and in hindsight, you have granted me all that and more.
I did not expect my connection to you to grow so intense. At first I wanted a goddess to worship, but now I feel privileged to call you Mommy. In truth, thinking of you as a goddess, so far above me, now seems like an attempt to keep some safe distance. It feels so good, and vulnerable, to think of you as Mommy, knowing me and possessing me more intimately than I had imagined. I learned that it can both be true that you are superior, as well as that you are a warm and genuine (and real!) human being, one I am grateful to have in my life. The real you—and my submission to you and even my missteps along the way—is better than the fantasy I had in my head.
I also did not expect my experiences with kink to flow in so many directions. I think this was one of my first lessons: how differently I experienced kink under your guidance instead of through the lens of porn. You opened me to so many different flavors of kink, which became so much more vivid when sampled at your feet. You helped me understand desires and urges that always lurked beneath the surface of my expression of kink, from a need to play with gender to the peace that comes with becoming a vessel for pleasure. I had always been fascinated by BDSM equipment and gear, but you showed me that these were just tools, which you could wield but did not need to get into my head and make me feel your power over me.
Finally, I did not expect that submitting to you would help me simply grow to be a better person, in so many dimensions. I knew that I had suppressed my kinky desires, but in pulling at that thread you helped me realize how poorly I've articulated my needs and desires more broadly, across my relationships. By dedicating my private space to you, I realized how much I have neglected to make space for myself. I once prided myself on maintaining a boundary between fantasy and reality, but I realize now how much that thinking has been grounded in stigma, an excuse to keep my deepest desires under wraps. I will become less binary in my thinking and learn how to blend my desires and my fantasies into my reality. I love the intentionality and purpose my submission gives me, how my devotion remakes me, every breath for Mommy
Thank you, Mommy. I know that I still have much to learn. In my first year of submitting to you, I have at least seen that the more I surrender to you, the happier I am and the better I become. I know that I have work to do, but I am so grateful to do it under your guidance and under your power.
I am better because of you.
-Your duckling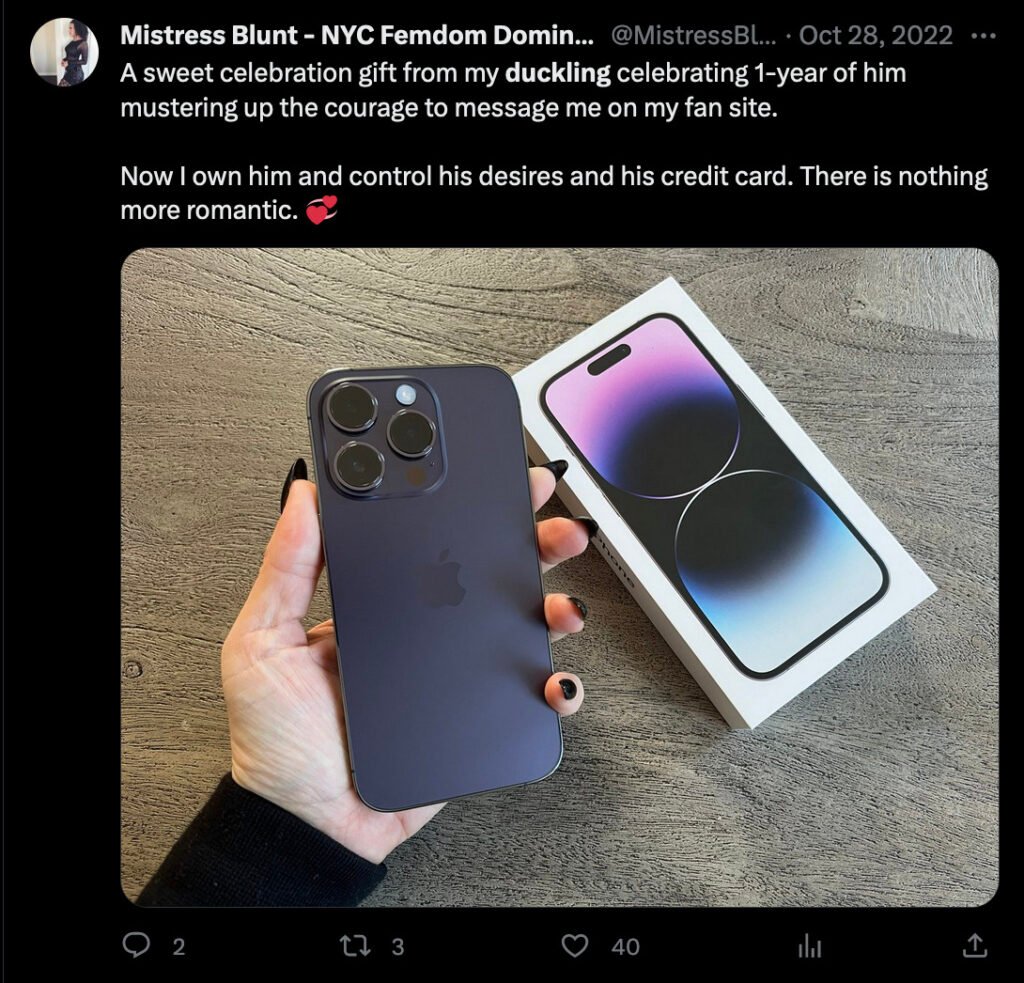 Curious about how submission can transform you? Follow me on my OnlyFans. Don't forget to sign up for my newsletter and for those who feel inspired by the above interview and want to make fantasy a reality, reach out.