Like any relationship, D/s relationships can be both rewarding and challenging. In this interview I chat with Emmy Lewis, my former submissive, about our relationship, D/s dynamics, D/s breakups, service submission, and masochism. We talk about our evolving relationship over the past five years and her current offering as a professional submissive.
Mistress Blunt: I'm Mistress Blunt. I am a New York City based pro-domme, and I'm here today with Emmy. Emmy, do you want to introduce yourself?
Emmy: Hi, I'm Emmy Lewis. I am a pro-switch in New York City.
Mistress Blunt: I know, it's so good to see you! And I just got to see you a little while ago too. That was really sweet.
Emmy: We had a lovely walk!
Mistress Blunt: Yes. A lovely autumnal walk in the park.
Emmy: With puppies.
Mistress Blunt: Yes, all of the puppies. We can talk about puppy play later too. Because I do know you love that.
Emmy: I have this great video you filmed. We had a puppy tail plug that we tried to put it in, but we couldn't. And so, you were just hitting my ass with the puppy tail like an impact toy!
Mistress Blunt: Was this the dissaranged puppy scene?
Emmy: That was the disarranged puppy scene.
Mistress Blunt: Oh, my God, you have to send me the video.
Emmy: I will, I will!
Mistress Blunt: Okay, so, clearly, we have a lot of history. So, maybe a good place to start would be… I'm Danielle Blunt, and this is my former submissive, Emmy Lewis. So, I would love to start by asking you how we met, and why you decided to reach out to me in the first place for a professional dominatrix session?
Emmy: So, we met in, what was it, 2015?
Mistress Blunt: I think so. Yeah. Wow.
Emmy: 2015. And I had reached out to you online. I'd known that I was kinky for a long time, but was just starting to come into having confidence to play with people. But I am a pretty excellent masochist.
Mistress Blunt: I can confirm.
Emmy: I played with a whole bunch of different people. But I kept having the experience of people telling me that they knew how to do a certain skill set, like pain play, when they absolutely didn't. The situation would go wrong- I was playing with people who didn't know they were doing. I had to start cutting my boundaries, and saying "I have to do lighter scenes," and not getting the things I needed.
Mistress Blunt: You didn't want lighter scenes– you wanted better tops?
Emmy: Yes, exactly. And I was looking at kink spaces online, and I came across a bunch of pictures of you and your website. You have this aesthetic that I really love- witchy mischievousness, elegant. And you also had lots and lots of photos with intense toys, like single tails.
Mistress Blunt: You like the single tail.
Emmy: I actually have an Audrey Ryan drawing in my apartment of you with a whip, and one of you sitting in a chair. And one of your foot on my face.
Mistress Blunt: You're the subject of a lot of the art that I have hanging in my play space, especially those very bruised tits of yours.
Emmy: The birthday bruises.
Mistress Blunt: Birthday bruises are so important!
Emmy: They're so important. And so, I followed links that you had, and found your website. And read your whole thing.
Mistress Blunt: Like a good girl!
Emmy: Yes, I have now learned as a pro sub it is wonderful when people read all of your stuff. (laughs)
Mistress Blunt: Take note, reader. (laughs)
Emmy: And so, I reached out to you. I filled out your submission form. I thought really hard about all my answers. I was taking it very seriously. Because I really was in desperate need of sadomasochistic release and catharsis. And we got in touch, and I met you at this little beautiful dungeon that used to exist.
Mistress Blunt: My lower-east side space. Yeah.
Emmy: It was so gorgeous, it was such a gorgeous little apartment dungeon. And then, we had a very… god I was so nervous, we had a pretty basic scene with a few implements and mostly spanking. But really hard and intensely. One of the first few times we played, you really hit my chest hard. I discovered that is a body part for me that brings up a lot of emotion.
Mistress Blunt: Yeah, I know where you're talking about. There's a lot of emotion stored there. Especially, on you, particularly, it is a very effective body part to play with.
And I remember your initial inquiry was very thoughtful. And I feel like people who actually do thoughtfully fill out my contact form, I'm like, "Oh, we will have a good time together." I feel like I have more queer folks coming to see me for professional domination sessions. But at the time, this was five or six years ago, I had less women seeing me for pro-Domme sessions.
I've also hired sex workers. And I feel like it's something that's not talked a lot about in queer community, and is starting to be talked about more. So, I would love if you could talk a little bit about what that was like? Reaching out to a sex worker as a woman. Was there any stigma, or shame associated with it, or did you just know what you needed?
Emmy: Part column A, part column B. There's these two parts of me, one that's indigant to rules. And then, another part of me that's very afraid of embarrassing myself. I did lose a friendship at one point, after telling somebody that I was playing with a Domme. They thought it was weird and abnormal. That was hard, but I let them go. Because I thought what they were saying was bullshit. Especially when I was doing something that felt so healthy.
My relationship with you did so much brain healing, where I learned healthy coping mechanisms through kink.
Mistress Blunt: I remembered working on that with you. I love the idea that kink can be healing. Any activity can be healing, depending on what your intention is. And I don't consider myself a healer, because I think everyone has the innate capacity to heal themselves, and heal in community. I remember your inquiry, I think we worked a lot on life boundaries. Not letting…
Emmy: I used to let people walk all over me!
Mistress Blunt: Yeah, not letting a submissive tendency be taken advantage of. Will you talk a bit about that?
Emmy: Sure. So, for a long time, I have had really intense issues with anxiety and depression, which you witnessed fluctuate.
It still fluctuates. There is a lot of physical effects on my body. Tension, and breathing issues. And often, my submissive qualities coming out at detrimental times. Two things happened when we played together: physical tension was released from impact and pain, and mental tension was released through submission. Being able to relax into a submissive mindset, instead of being dragged into it. Handing over control gives you a lot of control.
Mistress Blunt: Right! And I feel like it creates a container for it. So, there's this space for the submissive parts of your personality, which is very genuine and authentic, and we can play with them in a safer space that we worked on cultivating together. I'm sure both of us made mistakes in the creation of that space. But there's that trust that you can figure it out. And that this is someone that you want to continue creating that space with.
Emmy: Everybody makes mistakes! (laughs)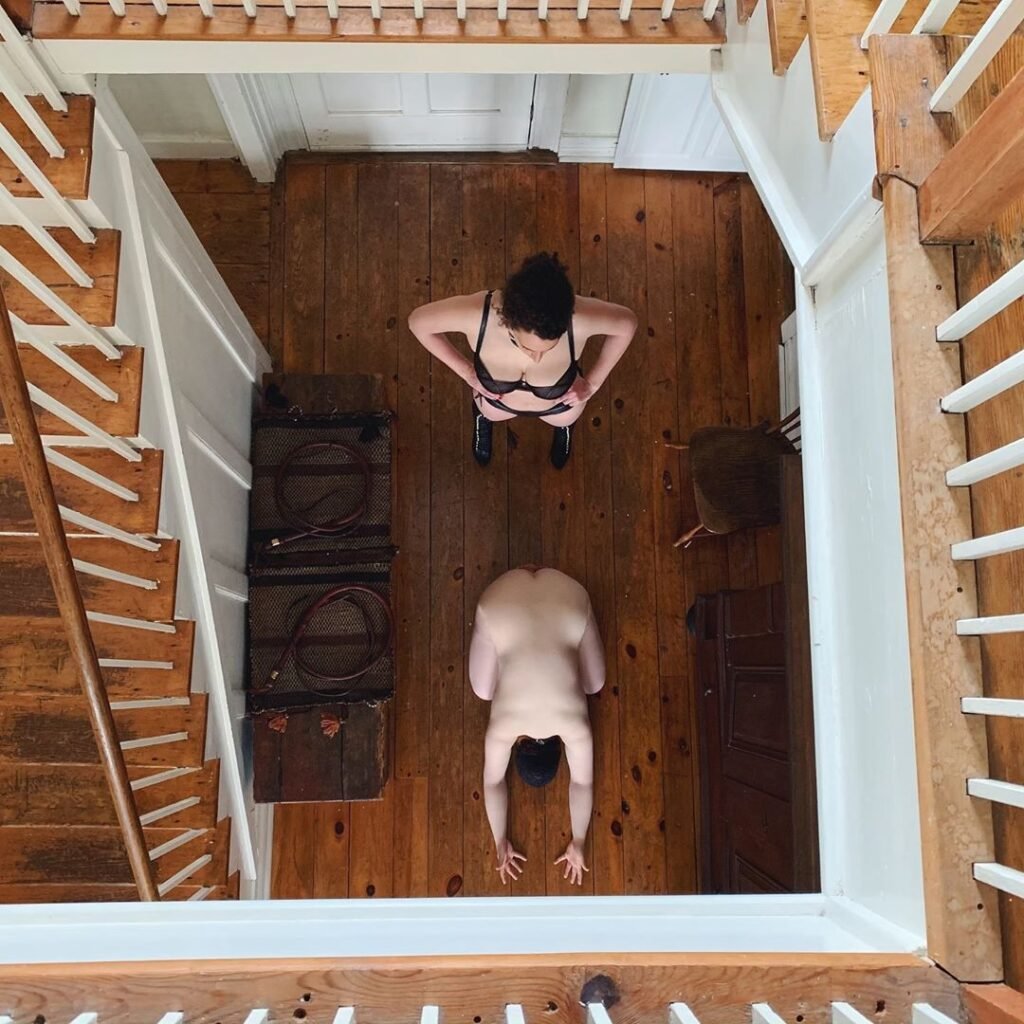 D/s relationships and service
Mistress Blunt: So, skipping ahead a little bit, our relationship turned from one of very contained sessions into a more personal D/s relationship, where…
Emmy: Came service.
Mistress Blunt: Right. And you fucking earned that! I feel like everyone is just like, expects that like, "Oh, She's so lucky! How do I get to do that? I'll do one session, and then I'll have access." And it's ridiculous. You were a very big part of my life, and you earned more by making yourself indispensable. And really doing the work, and working, and growing together. I would love to hear you talk about service and your relationship to it. One thing that you have said to me was that cleaning my house was like church for you!
Emmy: Oh, YES.
Mistress Blunt: And I would love to hear what made you feel that way? It sounds like you reached an altered state of consciousness through service.
Emmy: Completely! And I want to underline that service, and the progress of our relationship, was never something that was set out for.
Mistress Blunt: I was inviting you to more things, and I wanted you there.
Emmy: Yes! It often would take me by surprise sometimes. Honestly, it came from how fucking special I think you are. I think at the time we were beginning to deal with SESTA-FOSTA, and I got to see what an incredible activist you are, and how fucking brilliant you are. I saw you command rooms when I would go to events with you, I would read what you wrote. And god, I love your art!
Mistress Blunt: You're going to make me cry now.
Emmy: Good.
Mistress Blunt: I'm not even a crier.
Emmy: Good. I'm glad.
Mistress Blunt: See, she is a switch.
Emmy: There were so many things that just made me want to support you. And so, when you asked me to do things to help you, I was eager to. There was a few big tasks that really established our service dynamic. (laughs) One was bringing salmon uptown during a marathon!
Mistress Blunt: Our ongoing joke is that she's allergic to fish. I have so many food allergies of my own. I would ask if she wanted to try something I cooked, forgetting her allergy, and she's like, "Is this the time I die? Is this the time you choose for me to go?" and I would reply, "That's so romantic, but go find something else to do."
Emmy: That was fun. That was delightful.
So service in a D/s relationship… I do have this innate thing as a submissive of really enjoying being a support, or a pillar in somebody's success and wellbeing. It's both sexy and personally fulfilling. Whenever I was serving, especially cleaning and taking care of your space, I could fall into a meditative state, very similar to yoga. I would go through a flow in your house.
Mistress Blunt: I will say I would love to come back and see you napping. I'd come back, and you weren't allowed on the bed or the furniture. So, you'd be curled up on the sheep skin like a little angel. I was just like, "My little heart."
Emmy: I would just pass out after cleaning!
Mistress Blunt: You needed it! You did what you need to do.
Emmy: But sometimes service would leave me, (and will leave you, dear reader), in a really energized state, like you just went for a good run.
Mistress Blunt: And you are an incredible masseuse! I like to joke that you got radicalized by massage YouTube.
Emmy: It's true.
Mistress Blunt: You're a phenomenal masseuse.
Emmy: Thank you.
Mistress Blunt: And it's something that when people ask me now like, "Oh, what can I do to be a useful or better submissive?" And literally, just learn how to give a good fucking massage, and you will be the most sought-after service sub.
Emmy: I have sent so many Domme friends of mine lists of good videos for their submissive to watch.
Mistress Blunt: Massage and Bootblacking are two really beautiful and useful skills, especially, if you're in community, and you're going to be in community spaces. It gives you something to do at a party if you feel awkward. Or it gives you something to offer someone if you're interested in low stakes, facilitating play, or you want to talk about it first. And it's really lovely, if someone's interested.
Emmy: It's a good party trick.
Mistress Blunt: Yeah, in summary, it's a good party trick! But so many people don't know, newbies don't know what to do with themselves when going into new kink spaces. And I feel like having something that you can actually offer someone, something that's for them, rather than necessarily your own personal desire, is really amazing. It's beautiful.
Emmy: It was wonderful to be able to offer that to you and your friends. I met so many people being a service offered at your parties.
Mistress Blunt: I'm a good hostess.
Emmy: I would just go around giving massages around the playroom.
Mistress Blunt: You were coveted.
Emmy: It's an extremely useful skill, I would recommend every submissive. Learn how to massage! Also, learn how to cook a really good basic breakfast. Perfect your egg technique. You don't want to give your Domme a few accidentally overcooked eggs.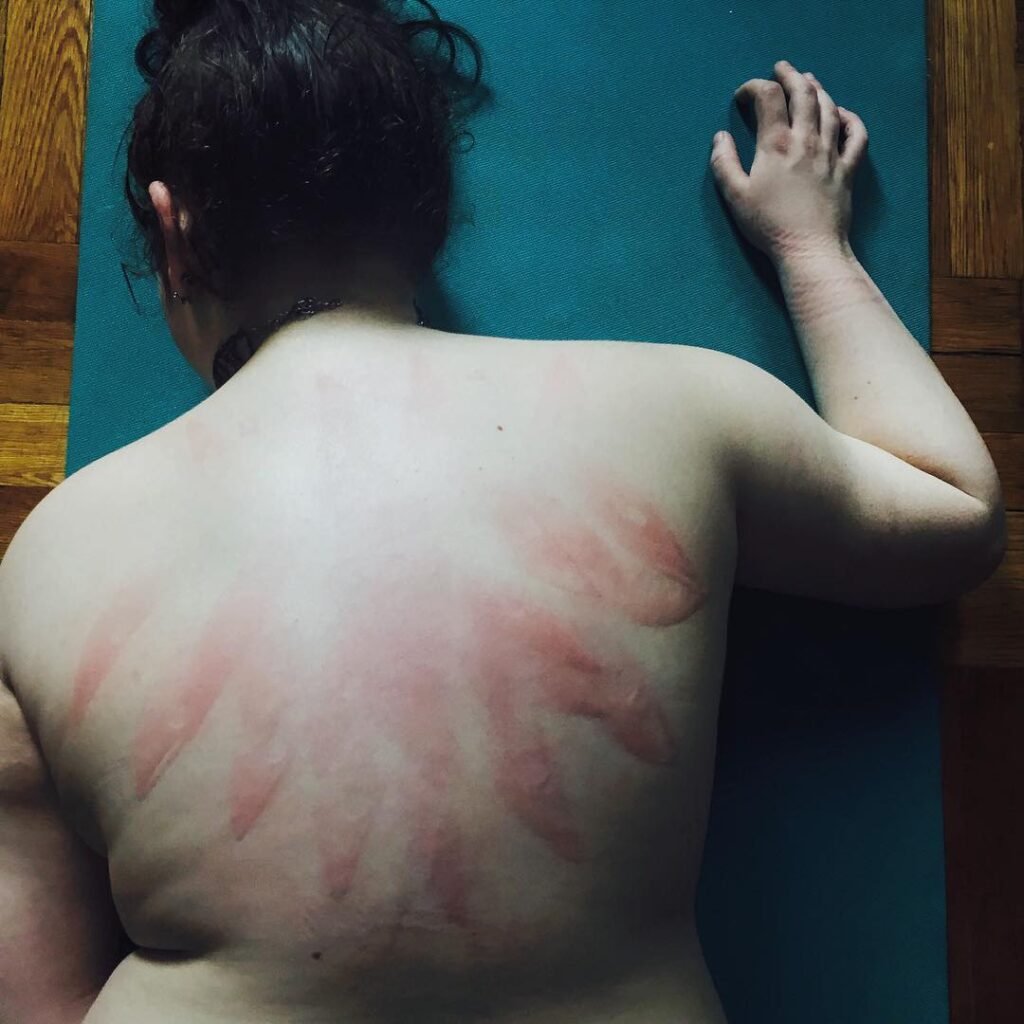 Crying in BDSM Scenes
Mistress Blunt: So, I would love to talk about crying.
Emmy: If you don't mind me having a little cry.
Mistress Blunt: I know, well, we both know you're a crier.
Emmy: I know.
Mistress Blunt: You can cry over this. It's one thing I love about you.
Emmy: It drives me insane.
Mistress Blunt: Really? It's so beautiful though.
Emmy: I feel like it's too easy for me to cry.
Mistress Blunt: We've actually had lots of conversations about crying.
Emmy: Yes. Lots of conversations.
Mistress Blunt: Lots of conversations about crying, where we had to have a conversation because you do cry so freely. Let's do it in a positive framing. When we were having intense conversations, it was at first, hard for me to not be influenced by that in a way that I don't think you needed it to. And I think we came to an understanding of this is just what your body does.
Emmy: Yeah. Which is why it drives me insane, that it's such a quick stressor response for me.
Mistress Blunt: And I feel like that communication around that, I'm just using the crying as an example. But I feel like for me, having you explain that, this just comes quicker. I feel like for some people, crying is cathartic. And for some people, crying can be something different, like this is too much, it needs to stop.
And I feel like for you, it's on the opposite side of that. This might just happen. And we can keep going. And I learned to trust you that you would let me know when it was outside of your threshold of tolerability.
Emmy: But sometimes it's very stressful to have lack of control over the emotions on your face. I feel like I have a face where a lot people can really easily read what I'm thinking, or what I'm feeling.
Mistress Blunt: But that's also such a benefit, in some ways, especially as a professional submissive. You're pretty easy to read and so expressive! You're super emotive, and expressive, and I feel like incredibly good at stating your boundaries, and knowing what they are. And I feel like some of the verbalization that we did around communicating, and figuring out that was helpful for me, too. I learned a lot from that process of having those conversations within a D/s relationship.
What skills can be learned in a D/s relationship?
Mistress Blunt: (laughs) I'm curious, what do you think about having been mine, and training with me, and the evolution of our relationship in both personal play, and your professional switch life? What do you think you learned, tangible things that you think, or just things that you're good at? Where are you at now?
Emmy: Oh, I acquired so many skill sets, especially with learning how to communicate in scenes. Not thinking somebody might guess, but actively using my safe words. I have no issues using my goddamn safe words.
Mistress Blunt: That's a good skill! I feel like there are so many classes on topping skills for dominants and not enough for submissives. You should teach a class. You are a very good submissive, and part of that is because you feel comfortable saying your safe word. And I know when you've played with me, and it goes beyond safe words. You're just a good communicator. Sometimes you're just like, "Oh, mercy on this," and we'd take off the nipple clamp, and then just can continue for another two hours. And I think that that type of communication, and being able to receive it, doesn't necessarily mean that the scene stops, unless it needs to. And I feel like you can communicate really well in both of those ways, which makes playing with you really fun.
Emmy: One of the most important things as a submissive is being comfortable with your safe word! I think mercy, or yellow, or words of that kind, are way underutilized.
Mistress Blunt: I totally agree. How would you explain to someone how you use "mercy" as safe word?
Emmy: My saying mercy means either things are getting too intense and the top needs to slow down, or that I have reached my pain threshold. Slow down, switch it up, check in.
Mistress Blunt: I feel like the place that I trained was like, I'm doing air quotes, "we don't use safe words." But they used mercy like people use Red/Yellow/Green. There was communication.
That's just something that makes sense to me. I also very rarely do consensual non-consent scenes. So, mercy, to me, is very much the word I use to check in during a scene. But of course, I am going to stop if someone says "red". To me there is a huge difference between "Oh, Mistress, please show mercy on my nipples," where I'm going to go take the nipple clamps off and check in to see if we want to continue the scene.
Versus someone screaming, "MERCY" means I'm going to stop immediately and check in on them, and see what's going on. And see if this scene needs to stop, or if maybe, their skin pinched between rope, and they shot out of subspace. Or if they're just like, "Fuck this, I can't do it anymore. I'm totally out of it." And I'm like, "Great. Let's take that off. What do you need?"
Emmy: People often don't realize is that our bodies and minds change every day. What you can take and what you want can change every day. One day, I could take a huge, bruisy, hard beating. And then, another day, a light flogging, and nipple clamps.
Mistress Blunt: And I think your emotional state can often dictate what you want or need from a scene. I'm thinking of the scene that we did after you had someone in a different professional life say something really horrible to you. Do you want to talk a little bit about that? Because that felt very intense and psychological.
Emmy: This is the one where you wrote on me, right?
Mistress Blunt: Yeah, that was the one.
Emmy: Yeah, we have beautiful pictures. So I work in a variety of different performing arts, several different mediums. And a good amount of time is spent with yourhair, makeup, and body being scrutinized. And I have a gorgeous curvy figure, which when we first met, I had very negative feelings towards. And a lot of that would be exacerbated by work. That particular day, I had an experience where somebody who I was working with said something really just mean and condescending about my body, and about my curviness.
I felt collapsed. Crushed, and then we were going to play that evening. And obviously, I've always very naked.
Mistress Blunt: Your uniform. Your uniform was mascara, pigtails with red bows, your collar, and nothing else.
Emmy: It evolved over time! It started because I realized after we played the first few times, that my hair was getting in the fucking way. And so, I came to you once with a ponytail, and you're like, "Oh, I like that ponytail."
Mistress Blunt: I was like, "I was going to string you up by that!"
Emmy: Yup. And then, the next time, it was two ponytails.
Mistress Blunt: And I was like, "I'm going to string you up by both." (laughs)
Emmy: And then, I would always bring you red ribbons. And so we ended up putting them in my hair.
Can you tell I don't take ADHD medication anymore?
Mistress Blunt: Me neither.
Emmy: So that day, I came in, and undressed, but I think you could see very clearly that I wasn't feeling well….
Mistress Blunt: I think you said something to me. You did a good job communicating, and you're like, "I am excited to play. I just want you to know that this just happened." Or I asked you what was going on.
Emmy: I might have been tearing up a bit as I'm known to do.
Mistress Blunt: This post is going to be called Emmy the crier.
Emmy: Oh, God! Oh, no.
Mistress Blunt: It's a selling point!
Emmy: But people will try so hard to make me cry. They'll know my secret! They'll know my dark secret…
So anyways, this scene. You took lipstick, I think. I was pointing out all the parts in my body that I was angry at, because of this fucking woman. And first you gave me an over the knee spanking. It allowed me to hide for a little bit, stuff my face in pillows, and just…
Well, just let us both be. And we stayed there for 40 minutes. And then, you took my lipstick and wrote numbers all over my body. And then, wrote "Mistress loves them all" in the middle.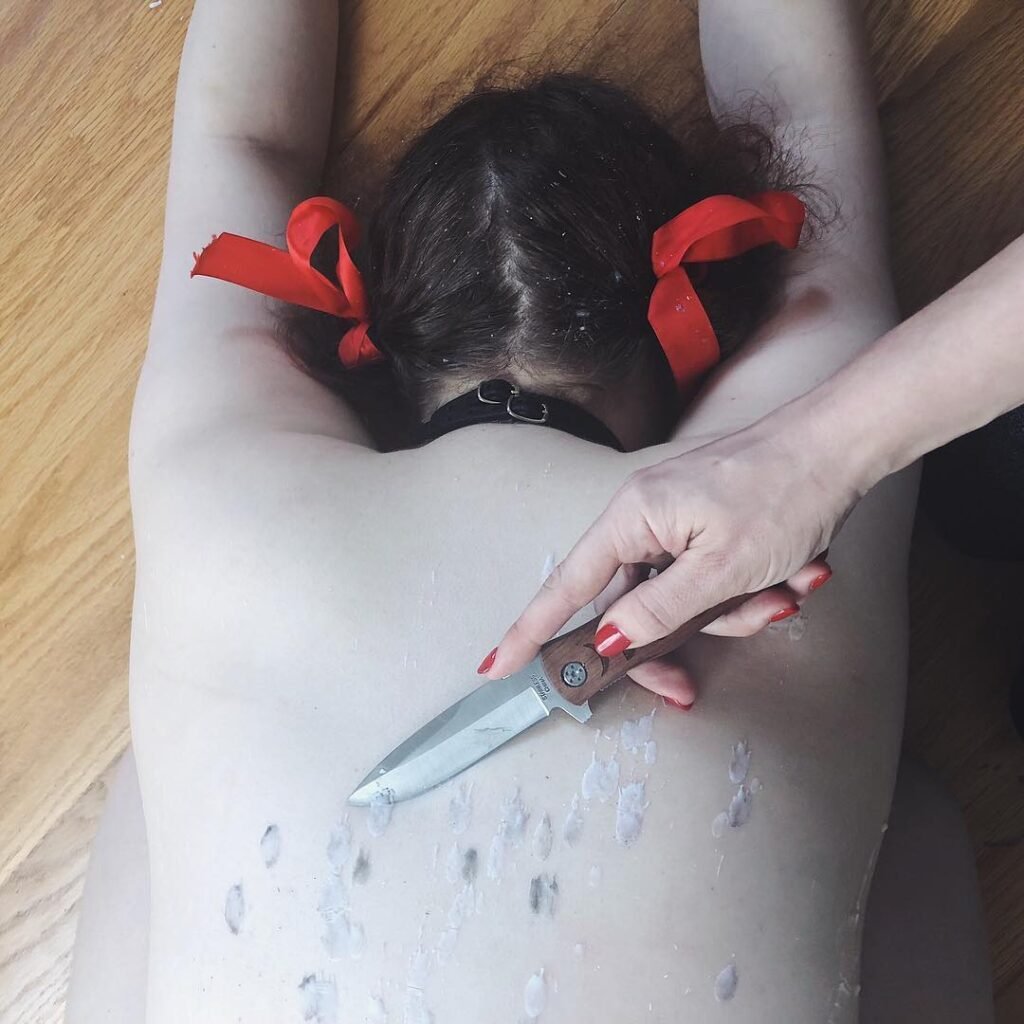 Conflict in D/s Relationships
Mistress Blunt: I love that scene. And I love the photos from that scene. They're so sweet.
I feel like we're talking about all of the really good and transformative parts of our relationship. But I also want to be realistic and share a realistic portrait, that there's points of conflict, and parts that have been difficult. And I wonder if you'd be interested in reflecting on any of that . I'm also thinking of when I released you from service and we decided to transition out of the D/s aspects of our relationship. It was a very challenging thing. And for me, I love you, you're part of my leather family, and I will always know you. But it felt like I saw you not getting some of the things that you needed. And I felt that your desire to be good, and to serve might prolong something where you weren't getting your needs met.
Emmy: Yeah, I think we reached a point in our lives where we both had so much going on, where our relationship became more and more difficult to maintain. I would get very stressed about not having the time to get everything that I wanted done done. And at the same time, because this is how life goes, you were experiencing a shit ton of stress in your life and your work.
A good thing for subs to think about when they're in a D/s relationship, is the fact that sometimes your Dom will have a multitude of interpersonal relationships that they have to pay attention to all the time, especially if they're a professional. So many relationships, so many people's emotions to juggle.
And we reached the point where I was so stressed about not being good enough. And you felt so stressed about not being able to provide the space, and the reassurance, and the time to play.
Mistress Blunt: Yeah.
Emmy: Does that sound right?
Mistress Blunt: Yeah. I think that's a very astute and concise summary of it was it felt like. That I no longer had the ability to provide you with what you needed, and that your desire to be good made you overlook that to some extent. And I felt it didn't feel fair to me to reap the benefits of your beautiful, devoted service, when I knew some of your needs weren't being met, and when I knew how many beautiful experiences would be coming to you in the very near future if that space were opened.
Emmy: It was like a graduation!
Mistress Blunt: I like that!
Emmy: At first it was a hard-few weeks of withdrawal from service and our D/s dynamic.
Service was this grounding thing for me, and your apartment was where I spent a lot of my time. And so we took a break from each other, where I mentally reestablished my grounding, of what my day-to-day was going to look like.
Transferring that meditative quality of cleaning your apartment before you came home from a session, and then massaging your feet until you fell asleep, into other outlets. Playing with new people, or having really fun pro-sessions, or tidying up my own place, or writing.
It was a time of graduation and transition. And we had this amazing day a month later, where you gifted me these leather boots that are very, very, very special to me.
Mistress Blunt: I love gifted leather.
Emmy: That felt like a diploma, kind of.
Mistress Blunt: I'm imagining you walking across a stage, in nothing but the leather, and getting a certificate…
Emmy: It was a time to reflect on all of the things that I'd learned, and I think you learned. I was really proud. I am really proud of all the things that we accomplished together.
Mistress Blunt: I feel like D/s relationships, and breakups aren't spoken about enough.
Emmy: No, you're right. A D/s relationship breakup, it's different.
Mistress Blunt: Yeah, it's very different. I definitely tried to still maintain my boundaries while being cognizant of what a shift no longer serving me would be for you. And try to be supportive of you finding new things to get your needs met with.
Emmy: And we had slips and falls. I was really afraid of losing relationships that I had built, of mutual friendships. But that didn't end up happening, because our friends are amazing.
Mistress Blunt: Right. First of all, no one is perfect. Everyone fucks up. And breakups within a community can be brutal.
Emmy: We've seen that!
Mistress Blunt: Yeah, and I'm like, "Emmy is amazing. Everyone should know Emmy." And I think it feels important to talk about some of the pitfalls and hiccups that we got into. I feel really blessed that we are both good communicators, and able to take space when we need it, and come back together in a way that feels really healthy and beautiful. I'm really grateful for that. And I feel I have seen you grow so much in the last year. And I'm so excited that you're offering pro submissive sessions, because anyone who plays with you is super fucking lucky.
Emmy: They really are.
Mistress Blunt: I fucking love powerful submissives. I don't want to dominate someone who's not my equal. And I feel that strength that you have makes you a really fucking good bottom. People, if you ever get the chance to play with someone I've trained…
Emmy: You're so sweet. Submissives should want that in a dominant, the dominant should see you as an equal. It's not that power exchange relationship dynamics are make believe, or play acting. You're not pretending, or putting on a role. But I, personally, don't think it should be the case of giving away your power, as much as gifting it.
Mistress Blunt: I don't want to take anything from someone, which is a reason I very rarely do consensual non-consent play. I'm like, "Oh, that's interesting. I'll just sit here and wait until you're ready to admit that that's what you want, and give it to me."
Emmy: You're very good at that.
Photography in D/s Relationships
Mistress Blunt: We took a lot of pictures together. I would love to hear you talk about that. Because I came up in kink taking photos. So, for me, it was really fun to be able to do that and that you were excited about me photographing you! I feel like it was fun and sexy for me to create an artifact, but I feel it had a very different meaning to you.
Emmy: I love being photographed by you. To me, it is somewhat similar to being marked.
Mistress Blunt: A photograph is a mark.
Emmy: Yes.
Mistress Blunt: And a history. I love that relating it to marks. It's like a memory. I feel it helps with integration somatically, what you learned while you're playing with a dominatrix. You're literally wearing something that is on your body, or you have a photograph that reminds you that this is a thing that happened, that I did, that I'm so strong, and look at this photo. Look at this mark. I'm so proud.
And so many people, so many queer people, tell me that seeing photos of me playing with you, made them reach out to me, or if they didn't see me for a professional session, were very integral to then being like, "Oh, that's something that I can do too."
Emmy: We became a presence online.
Mistress Blunt: A power couple.
And just sharing, I felt like it was fun for me to share that. I feel like that type of power in a submissive woman should be highlighted, and celebrated, and a joyful thing. It's not seen so much. And I feel we had fun with sharing that part, and the feedback that we were receiving about it was fun too!
Emmy: Submission makes you feel strong.
Mistress Blunt: I feel so privileged to be able to have this conversation with you. And that we've both been able to have so many different evolutions of our relationship. And it feels like something that's both very queer, and very deep in leather history, to be able to have these different permutations of relationships that don't just end when things change. But you can just have love and care for what was and what could come.
Emmy: Think of all we could do if we all allow our relationships, including our vanilla relationships, to evolve.
Mistress Blunt: And evolution is so natural. Literally, there're so many different ways to be in relation to others. D/s relationships are one way. And even within that, there are so many different ways to embody, to play with power, and be with each other.
Emmy: Agreed.
Mistress Blunt: I love you!
Emmy: I love you too!
Interested in staying in touch with Emmy? You can follow her here.
Want a more intimate look into my personal relationships? Follow me on my AVN Stars or OnlyFans. Don't forget to sign up for my newsletter and for those who feel inspired by the above interview, reach out.