Today I am sharing (with her permission) a deeply personal reflection from one of my online submissives who reflects on her gender identity in relationship to porn, erotic hypnosis and feminization role play. She talks about a 3-part series on "forced"-feminization and therapy roleplay that I created for her. I like to refer to my work with gender as "feminization induction" rather than sissification or crossdressing sessions. This was one of my favorite custom videos I have made to date. I loved reading her reflections on gender, porn, and the impact the custom videos she commissioned from me had on her. I hope you enjoy it too.
Gender Identity, BDSM, and Feminization and "Sissification" Hypnosis and Roleplay: reflections from a submissive.
"Growing up I often found myself wishing that I had been born a girl. I didn't have a language of gender dysphoria, transgender, tens-femme, trans-woman, at the time. Nobody really ever talked about transness except as a joke or when it would pop up in some very degrading mainstream porn. I remember being in my early 20s, having started my own therapy with a gender specialist therapist, and being on a little day trip by myself when I suddenly felt my body vibrate energetically as there was an internal realization that "I am a woman".
I then went to my local adult toy shop and bought a few DVDs and magazines featuring transgender performers. This was almost a decade ago now, and looking back on it, as I recall, that was a terrible way to start my own gender exploration. Very graphic and degrading imagery on those DVDs, very much made for the fetishization of the trans-body. I may occasionally identify as a "Chick with dick" but it is a very different thing to self-identify with that and to have it be thrust on you through marketing. I have been pleased to see the societal progress that has been made in the time sense. I have found my own community with my local Pride center, where I am simply allowed to be me in my own queerness. My Bookshelf contains volumes like "To My Trans Sisters", "You and Your Gender Identity: A Guide to Discovery", "Trans Bodies, Trans Selves", "The Mosaic of Gender". Volumes that didn't exist for me a decade ago.
This gets into a big part of what draws into the Dom/Sub dynamic. For me this is very much a form of play and it is a form of play where there is permission to really be with all aspects of yourself. It is a form of play where it doesn't matter what my body actually looks like, or how that gets coded by a larger society. It is a space where I can be fully embodied in who I am. A space where erotic fantasies can be played out without a concern for societal censure.
I work in mental health and form my work I know how powerful it can be when we are given space to really be with the entirety of ourselves. We do not live in a society that has good structures to explore ourselves sexually, to be with our erotic nature or to explore our gender. This is part of why I work with Mistress Blunt.
A little while back I commissioned a three-part video series from Mistress Blunt, sold now under the title "Feminization Therapy". Commissioning it really allowed me to explore one of my key erotic fantasies through the realm of play. There is the taboo element of a therapist/patient sexual relationship (sometimes this is also branched into a mother figure, both being caretaking figures). There is the acceptance of one's own gender identity. There is the acceptance of one's sexual desires and a need for service.
Essentially, I was allowed to go back and rewrite the porn that I encountered a decade ago. Commission it to be something more powerful and fulfilling to me. Make it personal, make it meaningful.
Mistress Blunt understood my intention perfectly in producing it, and made it into a piece that was both very deeply erotic and arousing for me, as well as deeply powerful in terms of my internal sense of self. In particular I strongly reacted to two moments.
One was Mistress Blunt's direct line of "You are a woman". No hesitation, no question. For me I know that is my internal experience of myself, but there is something so powerful to hear someone else simply name it.
The other part is one where she is speaking of wearing woman's underwear. "The reason you like to wear woman's underwear is because it makes you feel embodied, and what is sexier then that?" Over the years I have spent a few hundred dollars on various types of woman's underwear, only to eventually throw them out in shame. That line helped to really contextualize it for me, to make me more fully feel what the experience is when I put on a nice pair of panties."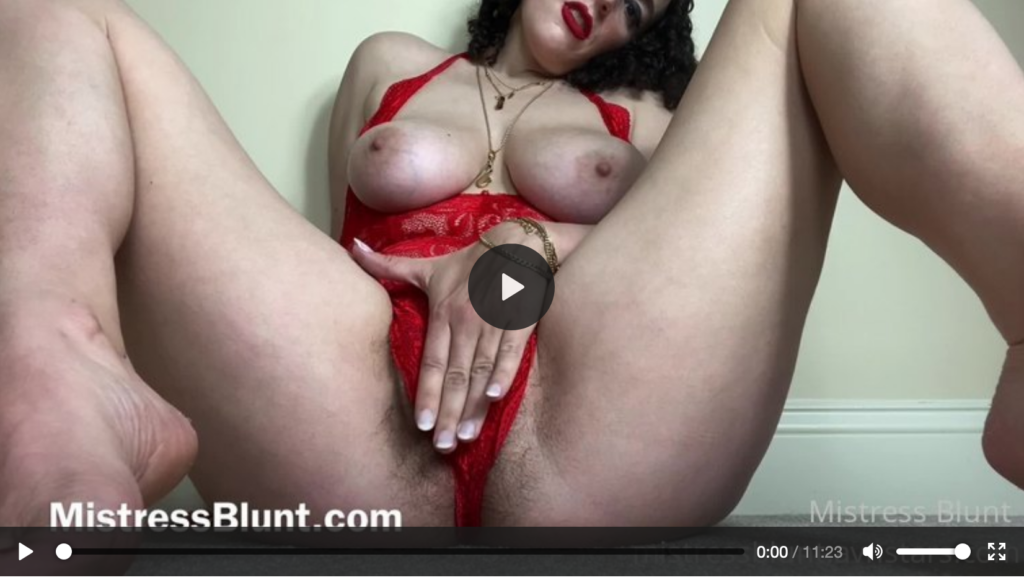 Are you interested in learning more about my custom videos or having an exclusive look into my BDSM practice? You can learn more by subscribing to my exclusive content on AVNStars or Onlyfans, check out my clips on IWantClips, or text me your dirty secrets on Niteflirt and SextPanther. I am also accepting virtual and in-person sessions which you can book here!
If you are interested in finding a gender-affirming therapist Manhattan Alternative is a great resource. Many of the providers offer remote services, so even you aren't local to NY it is a useful resource!